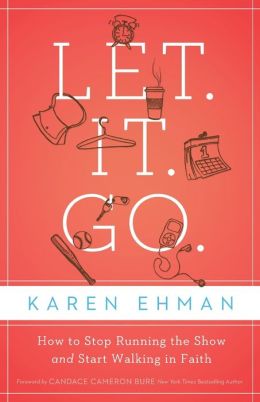 Let. It. Go.: How to Stop Running the Show and Start Walking in Faith
Description:
Many women are wired to control. You're the ones who make sure the house is clean, the meals are prepared, the beds are made, the children are dressed, and everyone gets to work, school, and other activities on time. But trying to control everything can be exhausting, and it can also cause friction with your friends and family.
This humorous, yet thought-provoking book guides you as you discover for yourself the freedom and reward of living a life 'out of control,' in which you allow God to be seated in the rightful place in your life. Armed with relevant biblical and current examples (both to emulate and to avoid), doable ideas, new thought patterns, and practical tools to implement, Let. It. Go. will gently lead you out of the land of over-control and into a place of quiet trust.
My Review:
I have to admit, before I started reading this book I really thought, "I don't have an issue with control". For those of you who know me...stop laughing! Yes, I am one of those who is "wired to control" and I honestly don't even realize when I am doing it most of the time. I bet you don't either.
In the book Karen identifies four disguised control types in addition to the loud, boisterous, and dominating type. They are: the soft-spoken saint who says yes to every request whether it inconveniences her or not (YES! that really is a form of control!), the enabler who either runs interference or does damage control when loved one's actions affect others, the victim or martyr who controls through a well-timed pout or the occasional sigh, and the people

pleaser

who's actions gain unspoken favors allowing her to get her way when she wishes. The common theme is that we all have a false notion that control works. And we do, don't we? Otherwise we wouldn't be doing it.
The book is broken up into three sections. The first helps us to see our own controlling side and to perhaps understand the "why" behind it a little better. Karen gently, and sometimes humorously, walks us to the truth that it really doesn't work, and that is is actually quite harmful to both ourselves and those we are trying to control.
The second section focuses on control issues in our families. With a chapter on managing our husbands, our children, our home and our schedules she covers it all. I love that Karen is honest and doesn't present herself as the gal who has all the answers and has done it right for FOREVER. She is down home, sitting at the sticky kitchen table over a cup of coffee, girlfriend chatting honest with us. She shares her failures and her successes and reminds us above all that we are on a mission for God
The final section is an awesome look at what it means to lose control and keep the faith. Karen uses Biblical examples of what it looks like to let God lead the way and yet still not sit on our hands saying, "huh uh...not my decision, I don't want to be in control". Drawing from the stories of Queen Esther, David, Paul and others we see how letting go can line up with letting God.
I have to say this was a truly eye opening book that has helped me to make some changes in my life.
I enjoyed it so much that I am actually reading it again as part of Melissa Taylor's Online Bible Studies starting this Sunday. For more information on the study, or to sign up yourself, please visit www.MelissaTaylor.org