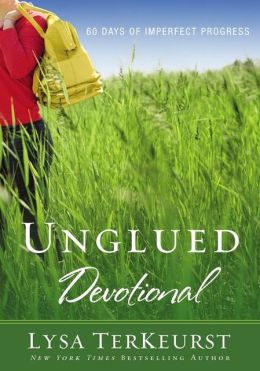 Unglued Devotional: 60 Days of Imperfect Progress
Description:
This companion devotional to the bestselling book Unglued provides encouragement to help readers handle emotional struggles. Including a daily opening Scripture, Thought for the Day, devotion, and closing prayer, this book helps readers begin a 60-day journey in learning to positively process raw emotions, such as fear, anger, and regret.
My review:
I wish I had had this when I studied Unglued a couple of months back! A wonderful companion to the book, and even great as a stand alone devotional. We all have moment where we just want to scream at the top of our lungs, or think that unkind thought. In this devotional not only do you see you are not alone, but you see how to give it to God.

The daily Scripture verse points us to God, the thought for the day (which appear to be taken directly from the book if my memory of the book serves me correctly) gives us a touch point for the day. These thoughts include "When there's no way to feel better in the moment, you just have to place your feet on the only solid ground there is--God's truth," "Don't let your lips or typing fingertips be the first thing that walks into a conflict", and other awesome reminders.

While some of the stories in the devotional come from Lysa's book, Unglued, many are new, making this a great book to turn to. But what I especially liked was a section in the Appendix that gives a short definition of the four different reaction types and a simple inventory to help you determine your reaction type. That inventory is visual! I loved it and wish it had been included in the original book or even the study guide.

So if you struggle with becoming Unglued, this devotional is right up your alley!