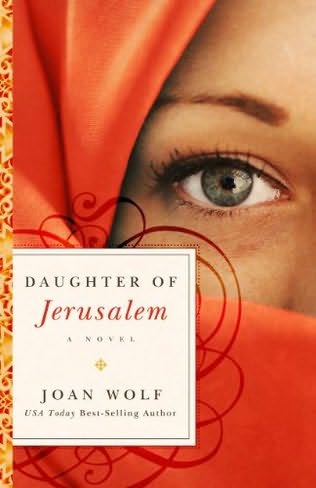 Daughter of Jerusalem
description:
In Daughter of Jerusalem, readers will quickly identify with Mary Magdalene - a woman of deep faith who used her wealth and influence to serve Jesus.
This fictionalized story of Mary Magdalene is, in the truest sense of the word, an inspirational novel for modern people who are looking to renew in themselves the message of Christ.
It's the greatest story ever lived, told by one of the most famous women who ever lived, and it's a page-turner. Joan Wolf's years of success as a novelist enable her to combine storytelling and a faith plot in this beautifully written biblical fiction.
My Review:
I hate to say, that while well written, I did not like this story. Had Wolf's main character had any other name than Mary Magdalene I probably would have enjoyed it much more, but alas it did not. The dislike is due to the disparity between the way I picture/view Mary Magdalene and the very fictionalized life that Wolf gives her.

First, this book seems to combine MANY Mary's (with the exception of Jesus' mother) mentioned in the Bible into one being. In this story she is Martha and Lazarus' half sister who ends up living in Magdala, who also annoints Jesus with expensive oil/perfume. However, Jesus never drives demons from her in the book.

Second, Mary Magdalene is very wealthy in this book due to being unwillingly married to a wealthy man who subsequently dies in such a way that we are led to believe Mary's lover caused. Personally, I had never considered Mary Magdalene to be a wealthy woman. Granted, that is my own perception and I can't very well tell you that she was, in fact, a poor woman. What I can say is that the Bible often depicts those who are possessed by demons as being beggars, ostracized by family and friends. If Jesus cast demons from Mary Magdalene, it isn't much of a leap to believe that she too was without means after being ostracized.

Third, this book seems to rely heavily on apocryphal texts. Mary Magdalene is elevated as being the only one of Jesus followers who truly understood what he was saying; she is the one Jesus loved more than the others. When the disciples decide to elect another disciple to replace Judas, Mary is suggested in addition to Barnabas and Matthias. It is decided that she has a "special" task and her name is not entered.
These are just a few reasons why the Mary in this book rang false for me as Mary Magdalene. That being said, the story was well written, the characters (with the exception of Mary) were believable. In all honesty, if I didn't feel that this would give a false representation of the Biblical account of Mary and her relationship with Jesus, I would probably recommend this book. Had the author chosen to give the main character a different name, one that isn't referred to in the Bible, this would have been an excellent book on how Jesus affected those around him. Unfortunately that is not the case here.

I do realize that this is a work of fiction, but there is enough truth in her to truly confuse someone who doesn't have a strong foundation...and that is dangerous.