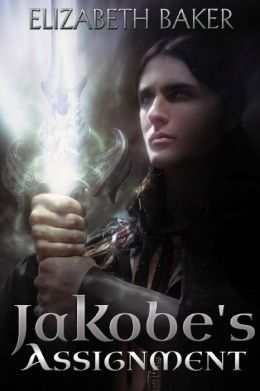 JaKobe's Assignment (Angel Trilogy)
by Elizabeth Baker
My rating: 4 of 5 stars
Book Description:
Pastor Jonathan Phelps believes in angels. Yet, the idea of unseen beings actually roaming the halls of Grace Community Church never entered his mind. Angels surely had some kind of purpose somewhere, but never in an unimportant backwater like Thyme, Texas. The thought of a warrior showing up in his office would have shaken him to the core! Angels never do things like that. Do they?
It's been 700 years since JaKobe worked on earth, but when his curiosity is piqued by Rachael's strange request, he finds himself once again on assignment doing the very things he once thought were behind him forever. Serving Adam's offspring and advancing the Kingdom while enemies multiply on every side is all in a day's work. And, this specific assignment is one job JaKobe is determined to finish before midnight.
My Review:
Jakobe's Assignment is a fictional story along the lines of This Present Darkness and Piercing the Darkness
in that it deals with spiritual warfare. We are given a glimpse of Elizabeth Baker's interpretation of the actions of angels as a result of humans living life.
We meet a preacher who "just wants to see God's doing something that matters and know that (he's) part of it". His wife, who presents herself as the good Christian woman, struggles with having a real relationship with God. We meet a young, unmarried, pregnant gal whose experiences with church were not good, a member of the choir going through some terrible times and yet her faith stays strong and a few others. Throughout it all we see the spiritual battles that are being fought around them as angels protect them and guide them.
I have to say that at times the storylines feel disjointed and can be difficult to follow. Other than the pastor, his wife, and an elderly mentor, we don't really get to know any of the humans. The same can be said for the angels. So this really isn't a character driven book.
However the concept is interesting enough to keep us reading and there are some wonderful truths hidden within the covers.