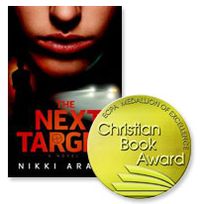 The Next Target: A Novel
by
Nikki Arana
My rating:
4 of 5 stars
The Next Target Description:
Would You Share Your Faith If It Would Cost You Your Life?
It only took one bullet. Austia's friend and student fell dead. And with a glimpse of a newspaper headline, the young and recently widowed Austia knows more about what happened than the police. From that fatal night, Austia's secret outreach to the U.S. Muslim community—in the guise of English language classes—becomes a target. Local Muslim extremists set their sights on ending her ministry and even her life. And the women she ministers to will be next.
A thick web of deceit closes in around Austia, and her circle of friends becomes smaller by the day, even as she finally opens herself to the idea of falling in love again. But who can she trust? Facing a spiritual battle that proves more treacherous than it at first seemed, Austia's convictions are tested to their limits and her heart becomes primed for breaking. She must ask herself: how much she will risk to stay true to her herself, her faith, and to the lives of the women she serves?
My Review:
I have to say that after reading this book my heart goes out to the women associated with Muslim extremists. I liked that the author, Nikki Arana, made an effort to show that not all Muslims are extremists and that many only want to live and worship in peace and are not interested in religious jihads.
My only complaint about the book is that the story line of Zaki, the spy/love interest of Austia, isn't very well developed. I didn't feel like I ever truly understood his motives, especially those concerning his experience during the war.
Austia, however, was very well developed. I liked that we not only see her actions, but her struggle with God during her efforts to help those around her truly understand who Jesus is. I found it helpful that Nikki Arana pointed out the obstacles that Muslims may have with accepting Jesus/understanding Christianity and doing so in such a way that it blended seamlessly into the story.
All in all a wonderful story in and of itself and a great way to better understand the challenges of witnessing to Muslims.